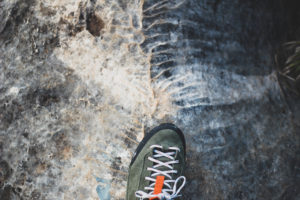 Some have mentioned that Jay Adams (also Chris Braun, Jim Newheiser, etc) said that you couldn't forgive someone unless and until they asked for forgiveness. I thought this way for a long time too.
The main difference between what thought before and what and I am saying now is that there wasn't a word for what we are supposed to do when someone sins against us but doesn't ask for forgiveness. Adams would never have allowed someone to stay angry, bitter, and resentful until the person who sinned confessed or repented. He just didn't have a word for what we should do instead. When he described it, however, he described what forgiveness is. As I studied the issue and listened to some other teaching on the topic (John MacArthur, Ernie Baker, etc.) I realized that most of the verses that tell us to forgive one another don't require confession or a request for forgiveness from the person who sinned against us. There are passages where the person who sins does come and ask for forgiveness, but those passages are about the attitude of the person who needs to forgive (e.g. Lk. 17:4). They are not telling the person not to forgive unless the other asks for it.
Forgiveness is difficult when we think the person who sinned against us doesn't understand what they've done to us. They don't "get" it. They seem to continue on like nothing happened, or they don't acknowledge or agree that it ever did happen. But we know, way down in our heart, that they sinned against and it really hurts. And if we simply forgive them, they will "get away with it." With this in mind, it can be really hard to forgive and love. But trying to live without forgiving, makes things worse, not better.
Paul Tripp talks about the fact that we trouble our trouble or suffer in our suffering. What he means by this is that life is hard, we suffer, people sin against us, we sin in response to their sin and suffer the consequences of our sin, and on and on. The Bible is full of suffering for a gazillion reasons. The God of the universe became a man and suffered. Everyone suffers. But when we suffer, if we react to the event in a sinful way, we make our suffering more difficult than it might otherwise have been.
Suppose before she was married, a wife sinned grievously against her future husband by having sex with a man she was not married to. Suppose she sinned by having sex with her future husband before they were married. Then, she sinned against her husband by lying about the whole thing. "Oh, you're my first, honey. You're the greatest!" But then, years later, her husband found out that it was all a lie, even though there were many opportunities to come clean. All this followed by a lifetime of repercussions and consequences.
The facts are true, and I could go on and on about it. I know people this has happened to and is happening to. When I tell the husband that he needs to forgive his wife, I am not dismissing the pain or the suffering. I am not trying to make less of the pain than is there. I'm not watering the sin down, or ignoring it, or pretending that it doesn't matter or anything like that. This man's wife is a schmo. But for all these years, while suffering the pain of her lying and infidelity, the husband has made his life worse than it needed to be. He has suffered in his suffering, troubled his trouble by becoming overly hurt, angry, bitter, resentful and nasty. He was sinned against. Horribly sinned against, but he has responded by sinning in huge ways himself.
He may think of himself as a bruised reed. He might say to himself, "I've been so hurt. I can't forgive." But in his reactions and responses to the knowledge of his wife's sin, he really isn't a bruised reed. At least not the bruised reed that is referred to in the Bible. That bruised reed (Mt. 12:20) was the same one who "did not quarrel or cry out" (Is. 42:2). "When reviled he did not revile in return, when he suffered did not threaten" (1 Pet. 2:23). That bruised reed was "despised and rejected by man, he was bruised, smitten, and despised" and he didn't open his mouth in return (Is. 53) and he loved us by dying on the cross. As he was loving, by letting them crucify him, he was laying down his life (Jn 15:13) and said, "forgive them for they don't know what they are doing" (Lk. 23:34). The bible says Jesus went to cross "with his eyes fixed on the joy set before him" (Heb 12:2) and through it all, "he entrusted himself to the one who judges righteously" (1 Pet. 2:23) and the Bible calls us to suffer like that. That's the only way we won't make our suffering worse, our trouble more trouble.
The husband might think, "I don't think God asks me to forgive where he does not (when the person is proud, haughty heart, stiff-necked, self-justifying)." What does God call you to do? He does not call you to sin against your wife, does he? In sinning against your wife, you are really sinning against God. That can't be. Maybe there's something somewhere that says something different, but the only passage I know of that tells husbands how to treat wives who aren't walking with God, proud, haughty, stiff-necked, etc. etc., is Ephesians 5:25-27: "Husbands, love your wives, just as Christ also loved the church and gave Himself for her, that He might sanctify and cleanse her with the washing of water by the word, that He might present her to Himself a glorious church, not having spot or wrinkle or any such thing, but that she should be holy and without blemish" (Ephesians 5:25–27). You might also check out the book of Hosea.
This passage doesn't specifically say that the wife is in sin, but what does the text mean by "spot or wrinkle?" At the least, it means the church, the bride, needs to change and it is Jesus' love for the church that changes her, and it is God working through the husband's love for his wife that will change her.
Here's a thought experiment for people in this husband's situation, take a look back over the past 25 years and tell me how doing it your way has been working out for you. In response to your wife, husband, child, friend's sin, you have been angry, bitter, resentful, hurt, frustrated, indignant, outraged, and even hateful toward her. You have been treating her in ways that made sense to you and in ways that some around you may have been advising you. How has that worked out so far? Has your wife changed much? Has she changed in a positive direction or have things gotten worse over the years because of her responses to the tone you've set in the home? Are you any happier or less hurt? What would it hurt to try to do and be what and who God calls you to be?
One last note. Through all of this, the husband should pay attention to what is going on. It might just be that God is working in his wife's life and she has realized that she was a schmo. She may have realized that she has sinned terribly, confessed her original sin (to both God and you, because of your pain missed it), and has also confessed that much of her current sin has been her reaction to her husband's bitterness. God may be working in her life and she is changing. Her husband needs to notice that she may be treating him like the church treats Christ. God does forgive people like this. And 2000 years ago, He sent Jesus to die to make it all happen. This is exactly who God does forgive. Who else could he forgive?
I think it would be great if the husband gave up his "rights" and surrendered to Jesus. He has suffered, I don't know anyone who, hearing the story, wouldn't agree, but he needs to get into Jesus' lap and get on with his life. In joy, in peace, in happiness, in life, in glory, in grace.
I hope this helps.
Photo by Roman Carey from Pexels https://www.pexels.com/photo/dirty-outdoors-retro-rough-734653/