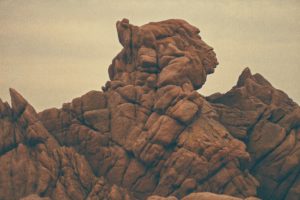 By Lisa Leidenfrost
"Whoever comes to Me, and hears My sayings and does them, I will show you whom he is like: "He is like a man building a house, who laid the foundation on the rock. And when the flood arose, the stream beat vehemently against that house, and could not shake it, for it was founded on the rock" (Luke 6:47,48).
A rock is something strong, solid, that does not move. God's Word is like a rock. When you read it and do what it says, it gives you a solid foundation from which you will not be moved when the floods of life's hardships come flowing in torrents. We recently have seen the photos from the massive flooding in Texas due to the devastating hurricane. It is incredible what a force of destruction a bunch of water moving en mass can be to all in its path. This gives us a good picture of how wise it is to stand on a strong foundation, the rock of His Word when this happens. What is it like to not have this foundation?
"But he who heard and did nothing is like a man who built a house on the earth without a foundation, against which the stream beat vehemently; and immediately it fell. And the ruin of that house was great" (Luke 6:49).
Torrents of water will wash away and break things in its path. The ruin is great. Without a foundation, all is lost during times of great trouble.
And consider that the Word of God acts not only like a rock but also like a two-edged sword.
"For the word of God is living and powerful, and sharper than any two-edged sword, piercing even to the division of soul and spirit, and of joints and marrow, and is a discerner of the thoughts and intents of the heart" (Hebrews 4:12).
I have noticed that being sinners, every day our thoughts can lose a little bit of perspective. And every day the Word can reveal this shift and set things right back on course when one puts into practice what one reads. The Word is a powerful force in so many ways! We can't even trust in our own thoughts if they are not grounded in the Word. It is from this spring board that we can interpret life. But that is not all, we can fight!
"Let the saints be joyful in glory; let them sing aloud on their beds. Let the high praises of God be in their mouth, and a two-edged sword in their hand. To execute vengeance on the nations, and punishments on the peoples; to bind their kings with chains, and their nobles with fetters of iron; to execute on them the written judgment – this honor have all His saints"(Psalm 149:5-9).
Notice that the joyful proclamation of praise is coupled with a sword in the hand. I found it interesting that the two come together. Doing battle against God's enemies and anything that sets itself up against Christ is to be done in joy as a proclamation of hope, that looks forward in faith to the victory.
The two-edged sword is meant to be wielded against all that stands against Christ, like the godless ideologies in our culture. But it can be used closer to home as well, on the vague thoughts of our own minds that so frequently trip us up. The sword is used to fight sin, whether sin from without or sin from within.
"For the weapons of our warfare are not carnal but mighty in God for pulling down strongholds, casting down arguments and every high thing that exalts itself against the knowledge of God, bringing every thought into captivity to the obedience of Christ, and being ready to punish all disobedience when your obedience is fulfilled"   (2 Cor. 10:4-6).
We're in a war, a war in which God has the ultimate victory, but He is asking us to fight in faith now, bringing every thought into captivity to the obedience of Christ. That is why the Word is so powerful. It reveals the folly of our godless culture, the sin in our own lives and shows us the way up to live lives that glorify Him. We have access to the King and can use His weapons to fight. How do we use them?
"above all, taking the shield of faith with which you will be able to quench all the fiery darts of the wicked one. And take the helmet of salvation, and the sword of the Spirit, which is the word of God" (Ephesians 6:16,17).
It is faith in the promises of God's Word that will enable you to quench all the fiery darts of the wicked one, all those doubts, anxious thoughts and worry because it lifts you up to the throne-room and reminds you of who God is and what He will do. Because you are standing on something more solid than your emotions and thoughts, the rock of His Word enables you to keep standing when the floods come on. And that is a good place to be.