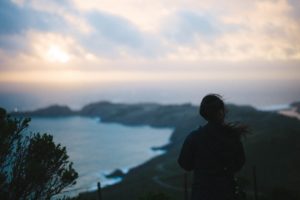 The letters I answer in this space were made. They are at best a composite of various counseling situations I've been involved in over the years. If you recognize yourself in any of these situations, please know that that is most likely because they are very common situations.
Dear Pastor Lawyer,
I've been trying to pay attention to what you've been saying in the "Rising Above" posts and it appears to me that you have left something out. You have been assuming that the situation isn't as bad as it might have sounded and that therefore the wife's response wasn't as dire as that supposed situation might allow. I get that. But suppose the wife is walking with God, reading her Bible, singing her songs, fellowshipping with the saints, she has confessed her sins to God and to her husband, has asked him what she can do to be a better wife, and has asked him if he would like her input as to how he might make her life easier. When he talks with her he is condemning, condescending, rude, angry, bossy, authoritative, he has begun to throw things at her and the kids, he is openly looking at porn and drinking, etc. He is a real piece of work. Now, what do you think she should do?
I'm Wondering from a distance.
Dear Wondering,
This looks like a situation where my first reaction would be to tell the woman to run away. If she is in actual danger, or her children are in danger, she needs to do whatever she can to ensure everyone's safety.
Let's say we received a counseling information form from a woman who described what you described. My first response would be to write or even call her and ask her about her ability to leave immediately. Can she leave? Does she have somewhere to go? If not, how can I help her to do so? Do I need to call the police for her? Does she have a church she can call and get help from? Has she already done that and what did they say/do to help? There are a lot of things to deal with, but the main thing is to protect everyone.
It would seem strange to me to receive a form or a letter and not a phone call, but then strange things happen all the time. This might happen because sometimes the danger gets ramped up slowly such that the victim doesn't even notice that things have gone from a little bit bad (like my first post) to a much worse like in the situation you describe. So, it is not all that uncommon to be contacted by people who are in real danger, but who don't know it.
You should know that calling the police isn't always the best way to go right off the bat. The police can investigate a situation, but they can't act in a family unless an actual crime has been committed. Yelling at your wife is not a crime and so the police can't haul a verbally abusive husband off to jail. On the other hand, a police visit can produce a really angry husband. If he was only mildly angry before, after a police visit, he can be livid. The police can warn the husband to not touch his wife, but if he is angry and tries to drown his anger in his beer, things can go south in a hurry.
I would call the police and let them know what is going on. Here in Moscow, we have a pretty good relationship with the police and so they will listen to what we think is happening and do some preliminary and very low-key investigating. They know that their presence can make a relatively bad situation into a really bad situation, so they are not only helpful but also very careful.
After talking with the police, I would call the pastor of the woman's church and ask him what he knows and how he is involved. If he knows nothing, I'll tell him what I know and ask him to check up on things. If he already knows, I'll wonder why she got me involved, but I'll let him take over helping the woman.
If he asks what kind of help she needs, I'll suggest the following: It would be really helpful if she had somewhere to go right now. Even if it is very temporary, she needs to get out of the house tonight. We can work on where else she can go tomorrow when she is safe. Next, we may need to find all sorts of practical help for the woman and her children. If she had to just up and leave, she might not have any clothing, or toothbrush and those kinds of things. People in the church can jump in and help with those kinds of things.
So, the first thing is to make sure everyone is safe right now.
How long she should plan to stay away from her husband will depend on how long it takes for her husband to fall on his face before God in total subjection: confessing his sin to his wife and everyone else and producing the kinds of acts of repentance that convince everyone is he has really changed. By everyone, I mean primarily the wife, but her view should be strongly influenced by the opinion of truly wise and godly people in her life. In many of these situations, because the wife loves her husband, and because very often she feels guilty for not only his outbursts but also her leaving, she will be convinced of her husband's changing way before any other person involved. So, I suggest that she not trust her own heart in this and should wait on people who are more objective. That said, there are a number of so called "victim advocates" out there who are not only not qualified, but who are positively dangerous. These people should be avoided like the plague.
Making plans is difficult because we are not only interested in helping keep the family safe, but we are also interested in restoring the marriage and putting the family back together in a healthy and godly way. But we don't want to jump the gun and send her back before the situation warrants it. With this in mind, it is crucial, more now than ever before, to be walking with God. She and the kids need to be thanking God for their circumstances, praying constantly, and rejoicing in the Lord. Even though the feelings might be saying something different, she still needs to fellowship with the saints and to let them lift her and the kids up to the Lord. She needs to let others help her in all of this and with all the practical affairs she will need to deal with as she waits on the Lord for her husband.
As we think about the practical aspects of planning the future we need to keep a thing or two in mind. 1) God is in this. The man, the wife, the children are all living in front of the face of God. He is doing his will to give himself glory in all of it. The husband may mean what he is doing for evil, but God is still meaning it for good (Gen. 50:20). 2) this is true and so is the fact that God is doing all of this for the good of his children. 3) when you put these things together you know that God is using the wife's active love for her husband (seen in the first post here) and her humble and sweet communication about her son and her working to help her husband see his sin (seen in the second post here). God is in this from top to bottom and because of this, we have every hope that her husband will come to his spiritual senses sooner rather than later. 4) the text of 1 Peter 3:1-6 says that through the submission of his wife a man, even if he is not obeying the Word, can be won without a word by his wife. This means that God will work through his wife's behavior to win her husband to himself. What this means is that God has been in it from the beginning and if her husband is to come to the Lord, it will more than likely be through this process.
Does this mean that this is the only thing that will win a man to Christ? No! The church's involvement will help. If the man was excommunicated for his sin, that will have a godly effect on him. The attention of other Christians in the local community, the witness or example of other godly and thriving families, and the past history of God working in his life will all have an impact on his heart. All these combine to reveal to him that he is a desperate sinner in need of serious help.
Here are a couple of thoughts I have on how to plan for how long she might be away from her husband. How long to plan for depends on how long the Lord takes to "fix" him. If he comes back to his senses quickly, she can move right home. If it takes him several months, she may need to get a job and have help taking care of the children. This is another area where having a vibrant and healthy church family can help. Also, if the whole event ends in divorce, obviously the plans will need to be different.
There isn't an automatic way to know how to prepare. At first, it is a day to day, wait and see kind of thing. If the husband has been grossly sinful for many years and he has "repented" several times in the past, you might assume this is going to take longer time than other situations. On the other hand, if the wife knows that her sin has contributed to her husband's sin and they are both getting good Biblical Counseling: sin has been confessed, forgiveness has been extended, hugs are genuine, and there is real joy in both people and between both people, the separation might be relatively short lived.
I would say that she should start by planning to be away for a short time. Then as things play out, she should slowly begin making preparations for a longer separation. Again, there is wisdom in godly counselors and I would suggest that she be in contact with several and listen to them.
A word needs to be said about final decisions. I believe God has put it in our hearts to see things through, even to endure suffering. Commitments, covenants, and promises are made and it just seems wrong to give up on them even though things are difficult. Emotions (she loves the guy), dreams, and hopes are involved as well. Shame, guilt, anger and a whole host of other emotions jumbled in together and when all of these crash together it makes it very difficult for a person to pull the plug and just walk away. I think, after the safety concerns are met, a woman needs to take her time before making any final decisions. She needs to wait on the Lord, be bathed in prayer, heavy in Bible study, and saturated with fellowship with wise people. In that context, she needs to wait on the Lord until he releases her from her marriage.
What I mean by releases her is that she needs to know and believe that she has done everything she could, can, might, or ought to have done to save the marriage and to be convinced in her bones that God is allowing her to step away. Not only is he allowing her to step away, he is telling her to step away. She needs to have no regrets, no doubts, no "what if's."
The reason for this is twofold: she needs to be able to look back on this part of her life and know that there was nothing, absolutely nothing, she could have done to save her marriage. She can't be looking back and longing, or wishing or dreaming. She needs to be able to let the past stay in the past. And second, she needs to think this way because she needs to be able to turn to the future with hope and joyful expectation about the next adventure God has for her. She needs to be "all in" for the future, not partially in because she is waiting for something from her past to change and come along and save her.
As has been mentioned several times already, the reason I gave the woman in the first post the counsel to make sure she was in good strong fellowship with the Lord was so that it wouldn't be anything she was doing that her husband could blame for his sin. There is another reason. If her sin contributed to her breakup and she hasn't dealt with it and learned to live without it in a vibrant and glorious way, she will just repeat the process in the next relationship. She will drag her past with her into the future. Consequently, her next relationship will be just as horrible as the last one.
There is one more aspect to her decision to mention that is important to point out. When God releases her to leave, he is not just releasing her, he is also doing something in the life of her husband. The decision to leave is not all negative, it is a positive thing as well. God is releasing her, but he is also, in the same decision dealing with the husband in a new way. And this is good.
I think I'm finished for now. Let me know if you have questions.
I hope this helps.
Dr. Lawyer