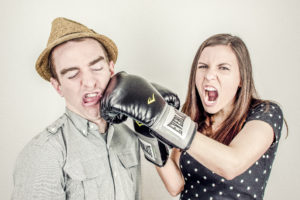 Have you ever heard anyone say anything like this? "If your brother sins against you, you need to confront him and tell him where he's wrong." Or, "if your husband sins or is abusive, you need to confront him and expose his sin." Or, "The Bible tells us to confront those who sin, or they will continue in it and things will get really bad."
There's something about that word, confront, that just gets under my skin. So, I thought, what does it mean and how is it used in the Bible?
The English definition is, "meet (someone) face to face with hostile or argumentative intent, face up to and deal with (a problem or difficult situation), and compel (someone) to face or consider something, especially by way of accusation." Two out of these three definitions have a particularly harsh, rude and divisive "feel" to them. To confront someone means to assume they are your enemy, or to plan to make them an enemy. Webster's first definition says this, "to face especially in challenge: Oppose, confront an enemy, the mayor was confronted by a group of protesters." This also has a pretty negative "feel." I'm not sure how things would go if a friend came to me and confronted me. I'm also pretty sure, I would never encourage a wife to confront her husband. Is confront the right word?
The Bible uses the word, in English, fifteen times depending on the translation you are using. I use the New King James Version in close collaboration with the English Standard Version. In every instance of confront in the Bible, someone is in someone else's face. This is usually in the context of war between armies or war between personal enemies. For example, in 2 Samuel 22:1 says, "Then David spoke to the Lord the words of this song, on the day when the Lord had delivered him from the hand of all his enemies, and from the hand of Saul. And he said…" Then down in verse 6, David said, "The sorrows of Sheol surrounded me; The snares of death confronted me." And in verse 19 he said, "They confronted me in the day of my calamity, But the Lord was my support." In both verses, in the context of a song about God's deliverance from Saul, David said his enemies confronted him and it wasn't good.
The situation is the same in every instance of the word in the Old Testament. The New Testament isn't any different. In Matthew 21:23 it says, "Now when He came into the temple, the chief priests and the elders of the people confronted Him as He was teaching, and said, "By what authority are You doing these things? And who gave You this authority?" and in Luke 20:1, 2 it says, "Now it happened on one of those days, as He taught the people in the temple and preached the gospel, that the chief priests and the scribes, together with the elders, confronted Him and spoke to Him, saying, "Tell us, by what authority are You doing these things? Or who is he who gave You this authority?" Jesus is being challenged, not by friends who are trying to help him, but by enemies who in a few short months will condemn him to death.
There is a sense in which the word you use to try to help someone doesn't matter if you used the word and what you actually did was to go to someone in a sweet, humble, and respectful way, and they listened to you and repented, then keep in using the word. But if when you go to someone and you actually confront them and you get the result that you would get if you confronted someone in the Biblical sense, you probably ought to change your tactic and the word you use to describe what you are doing.
Christians shouldn't confront one another unless they are prepared to go to war. Instead, we should examine ourselves to make sure we don't have a log in our own eye and that we aren't going to fall into sin in the approach (see Mt. 7:1-5 and Gal. 6:1). We should go in humility, should go gently, should go with respect, and in many cases we should go as one who is in subjection to the one we are approaching (see Ps 9:12; Gal. 6:1; Eph. 5:33; 1 Pet. 3:5). The goal is restoration, not winning. The reason for the meeting is to help a brother or sister walk with God in a more effective way. We care more for the other person than we do for being right. After all, there is a higher right than being right.