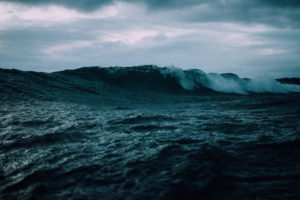 By Lisa Leidenfrost
"Immediately Jesus made His disciples get into the boat and go before Him to the other side, while He sent the multitudes away. And when He had sent the multitudes away, He went up on the mountain by Himself to pray. Now when evening came, He was alone there. But the boat was now in the middle of the sea, tossed by the waves, for the wind was contrary.
Now in the fourth watch of the night, Jesus went to them, walking on the sea.  And when the disciples saw Him walking on the sea, they were troubled, saying, 'It is a ghost!' And they cried out for fear. But immediately Jesus spoke to them, saying, 'Be of good cheer! It is I; Do not be afraid.'
And Peter answered Him and said, 'Lord, if it is You, command me to come to You on the water.'
'So He said, 'Come.' And when Peter had come down out of the boat, he walked on the water to go to Jesus. But when he saw that the wind was boisterous, he was afraid; and beginning to sink he cried out, saying, 'Lord, save me!'
And immediately Jesus stretched out his hand and caught him, and said to him 'O you of little faith, why did you doubt?'
And when they got into the boat, the wind ceased. Then those who were in the boat came and worshiped Him, saying, 'Truly You are the Son of God'" (Matthew 14:22-23).
Notice that in the above situation, the setting was not an easy one. Peter was in a boat, in the middle of a lake, in a storm at night. On top of all that, those in the boat just thought they had seen a ghost! After they were all reassured that it was only Jesus, Peter decided to step out in faith by asking Jesus to bid him to come. After Jesus bids him to come, Peter steps out of the boat, and in great faith, starts walking toward Jesus on top of the water.
Everything is going well until Peter realizes what a precarious situation he really is in. He makes the fatal mistake of taking his eyes off Jesus to size up his real predicament. He is out at night in a storm on a lake with waves all around him. He has nothing between him and any form of solid ground below than an indeterminable depth of churning water beneath his feet. He has never walked on water before so this is all new to him, and if he were to go down now, he is literally sunk. He also must have calculated that at this distance, he was too far from the boat to grab it, yet not close enough to Jesus to reach him, lest the water do its natural thing and give way to gravity. The realization of all this caused panic to set in, and as he begins to sink, he cries out to the Lord to save him. And of course, the Lord reaches out His hand and saves him. But then the Lord asks a question of him, 'O you of little faith, why did you doubt?'
Now, personally, I would have expected Jesus to say something like, "Wow, good job. You trusted me with the impossible. You walked on water and got this far! That was really some faith you had!" But no, Jesus had fully expected Peter to trust Him all the way in this bizarre and dangerous situation. Jesus wanted him to know in faith that everything would be alright if he just kept his eyes on Him.
The waves represent turmoil and trouble. James 1:6 carries this theme when it says, "But let him ask in faith, with no doubting, for he who doubts is like a wave of the sea driven and tossed by the wind."
When you think of waves, they are very unstable and can make you go up and down. Waves can also pound you, toss you around, then throw you under. Peter saw those waves and understandably, they scared him. But, Jesus was asking Peter to look beyond the waves to something more stable, that doesn't change, that he could count on. Jesus was asking Peter to look at Himself. If Peter kept his eye only on the Lord and not on the waves, he could calmly walk straight ahead on top of the water and not get battered by it.
And so it is with you and me. If we look at the waves of our life and not at Jesus, we will be tossed around and dashed with the likelihood of going under. If we look straight at God in faith, He will see us through. That means you don't look sideways at the waves which only cause fear. You look straight ahead in trust that all God has said He will do for you. You are seeing that His character is true and doesn't change and neither do His promises. He is who He says He is, and will do what He says He will do. These things are so stable, that they are like a rock in your line of sight, to focus on, and even to stand on.
When you look straight ahead focusing on what doesn't change, the waves will no longer hold any power over you. They can't toss you or dash you under because you are grounded in Him. And the most amazing thing is that He fully expects us to do this, to believe in His power to act on our behalf. Looking at Him is the only stable and safe position to be in.
But I also like the last part of the story, when Peter failed the test and started to go under, the Lord reached out and saved him anyhow.
"Whenever I am afraid, I will trust in You" (Psalm 56:3).
"He only is my rock and my salvation; He is my defense; I shall not be moved" (Psalm 62:6).