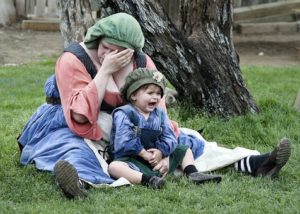 By Lisa Leidenfrost
There is a difference between being in a stressful situation and being 'stressed out'. With the first, you are put in a difficult situation and must get strength from the Lord to bear it. With the second, you are reacting to the difficult situation in an ungodly way, where your eyes are off Christ. I would define stress broadly as a weight on you. How you act under that weight is either godly or not. If it is not, then you can react in a number of ways: fear, anxiety, worry, depression, hysteria, lack of joy or peace. It can even affect you physically.
The fact that you are under this unwelcome weight is not sin and may not even be your fault. It is the way you react to it that counts. So there is a weight on you now. You'll be stressed out if you carry the weight. You won't be stressed out if the weight goes where it should be, up to God to carry.
Therefore humble yourselves under the mighty hand of God, that He may exalt you in due time, casting all your care upon Him, for He cares for you (1 Peter 5:6, 7).
What types of things are weights on us? The future, the past, other people, a present crisis? But these are all things you can't control so you should not be carrying those weights.
The ability to handle stressful situations is something we learn as we walk with God. He teaches us how to give over all our weights to Him, and He shows us how to let them go one by one in trust and peace waiting on Him to deliver us. We are not to carry anything.
Be anxious for nothing, but in everything by prayer and supplication, with thanksgiving, let your requests be made known to God; and the peace of God, which surpasses all understanding, will guard your hearts and minds through Christ Jesus (Philippians 4:6, 7).
Sometimes the weight is "why?" We feel the tension because we can't know why something has happened to us. But God knows the answer and He knows us through and through, and our stories, because He made them. He is going somewhere good with it and we can trust Him. In fact, He goes there with us as a hedge.
O Lord, You have searched me and known me. You know my sitting down and my rising up; You understand my thought afar off. You comprehend my path and my lying down, and are acquainted with all my ways. For there is not a word on my tongue, but behold, O Lord, you know it altogether. You have hedged me behind and before, and laid Your hand upon me. Such knowledge is too wonderful for me; It is high, I cannot attain it (Psalm 139:1-6).
Jesus knew what stress was when dying on the cross because He had the weight of the world upon His shoulders and He cried out asking why God had forsaken Him. Yet He prayed, "Not my will but Yours be done" (Luke 22:42).
So, Jesus understands your troubles, and because you are His, you may boldly go to Him for help by letting Him carry all your weights.
For we do not have a High Priest who cannot sympathize with our weaknesses, but was in all points tempted as we are, yet without sin. Let us therefore come boldly to the throne of grace, that we may obtain mercy and find grace to help in the time of need (Hebrews 4:15, 16).