As a critique of Biblical Counseling, I was sent to this web page. I read the article and thought I might say a few words about how I approach marriage counseling.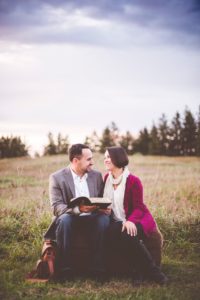 The place I begin in marriage counseling is to assume that the Bible is the foundation for all marriage life. Under that basic umbrella statement, the first presupposition I have is that the husband is the head of the home (Eph. 5:23). In a nutshell, what this means, is that the man is responsible for what is going on in his home and for the tone, or "feel" of the home. If his wife is grumpy, it is his responsibility. If his children are always in trouble at school, he is responsible for it. It means that the sins of his family are his sins. He needs to confess them as his and "fix" them because they are his. One ramification of this is that he does not get to blame his wife for her sin as if he is not involved. And he certainly doesn't get to sin against his wife for any reason. The bible says she is one with him (Gen. 2:24), that she is the most important person in the world to him, even over himself (Eph. 5:25-32), and that he is obliged to study her so that he can love her and support her with every fiber of his being (1 Pet. 3:7). One ramification of this is that he is to protect her from anyone and anything that might seek to hurt her or to do anything that would detract her from being the most glorious and beautiful woman in the world – to be like Christ. This means that if he is her biggest enemy, if he is the main reason she isn't flourishing, if she isn't filled with joy at seeing him come through the door at the end of the day, he isn't doing his job. In fact, he is in serious danger with God.
As a Biblical Counselor and a Pastor of the Church of Jesus Christ, it is my job to give counsel to people in such a way that they will walk with God more effectively, so they can live with one another more joyfully. If one of the spouses in a marriage is in sin, it is my responsibility and calling to help them see and understand the sin, know the gravity of the sin, and how to repair the ruins that the sin has produced. The primary problem with sin is that it separates us from God. Secondarily, it separates us from one another. The good thing is that God takes us from where we are, not from where we could be, should be, or ought to be. We sin, we confess the sin, we are forgiven for the sin, we repent from the sin, and we apply Biblical truths to ourselves and our relationships so that we move on with God and with one another in a glorious way.
In addition to my being a pastor, I am also a member of a session or board of elders who lead our church. It is our responsibility before God to help our people walk with God in ways that are consistent with the Word of God. It is also our responsibility to discipline people who claim to be Christians, but who don't live like Christians. What I mean by discipline is to warn people through word and action, that what they are doing is not in keeping with the way God wants them to be living. They are doing things that are harming the church and it is our calling to not allow that to happen. And, if we don't fulfill that duty, we are in sin ourselves, and when we don't do it at all, we are not a church at all.
When I put these presuppositions together, and Estelle and Gary come into my office I understand that Gary is the head of his home, his wife isn't happy, she is blaming him, and they have asked for my help.
There are three ways this counseling situation could go. It might be that Estelle is totally right and Gary is the whole problem. He is an angry man. He wakes angry. He stomps off to work in a rage. He yells at his co-workers. He can't keep a joy. He comes home angry. He kicks the dog. He yells at his wife until it is time to go to bed. What we would do, in this case, is to help Gary see himself from other people and God's perspective. We want him to acknowledge his sin. We want him to confess that sin, to ask for forgiveness, and to learn to live a life of peace and kindness. If Gary refuses to do these things, it is our job to warn him that he is in danger of being excommunicated from the church and sent out into the world without the covering of Christ. If he still refuses, we excommunicate him and send him out.
During this process, we help Estelle to live a godly life. We give her comfort in Christ. We surround her with loving friends who will pray with and for her. We tell her to walk with God, to not do anything that she knows will provoke Gary to anger. We want all of Gary's sin to be clearly seen as his sin and not his response to her sin. If we need to excommunicate Gary, we want Estelle to not be in his line of fire as an excuse for his sin. And we want Estelle to not have any regrets if things get really hard. And, if things are as bad as we've described, we will assure her that based on 1 Corinthians 7:10-11 she has grounds for separation, but at this point may not remarry. If he is excommunicated, based on 1 Corinthians 7:15-16, she will have the right to divorce him and to remarry.
Another situation that could pop out of this scenario is that Estelle is quite the piece of work and Gary is the battered spouse. Our counsel would be the same only for Gary not for Estelle. If she won't confess her sin, ask for forgiveness, and actually change, the church will exercise church discipline against her and Gary will be free to separate and/or file for divorce.
The third situation is what we see most often. The whole thing is somewhere in the middle. Gary comes home from work, Estelle has come home a few minutes before him and has started supper. He comes in, gives her a smooch on the cheek, asks what's for dinner, then goes into the living room to read the paper– just like every day. The next thing he knows, Estelle is in his face screaming at him to help, and calling him a lazy bum. To get away, he goes into the basement for some peace and quiet. But Estelle follows him nagging and yelling all the way. So, when he gets to the bottom of the stairs, he has finally had it and turns and gives her a few choice nasty words about her and her ancestors. She slaps him and he clobbers her. She cries and calls the police, he's hauled off to jail. Three days later they are sitting in my office looking for marriage counseling.
Here's what I do: I begin by saying something like, so what brings you here today? And out if falls. Her side: he's a lazy bum, he yells at me, he hits me, I'm out of here unless something serious changes. His side: I'm minding my own business, she starts yelling, nagging, won't let me get away, she hits me and then complains when I hit her back. If she wants to be treated like a lady, she should act like a lady. If she doesn't change, I'm out of here.
Given my presupposition, what do I see? Lots of sin…on both sides. If Estelle were to stop sinning against Gary, would he stop sinning against her? Some, but he is a sinner. If Gary were to stop sinning against Estelle would she stop sinning against him? Probably, but she's still a sinner.
Here's what I do—step two: You guys need to focus on yourselves in this story. So, Gary because you are the head of your home, tell me your story again, without blaming Estelle at all. And Estelle when it is your turn, tell me what you thought and did in this story without blaming Gary at all.
Then, now Gary because you are the head of your home, I want you to lead in confessing all your sin to Estelle without blaming her for any of it. She didn't make you sin. She only tempted you to sin. She was there, but she didn't force you to raise your golf club and hit her with it. Then, after each sin you confess to her, you need to ask her to forgive you for it.
After that, Estelle, you need to confess your sin to Gary in the same way. He did not force you to go into the living room and accuse him of being a lazy galoot. You did that all by yourself. When you are finished confessing sin, ask him to forgive you.
In our next session, we will begin working on the things were involved in creating an atmosphere in your hearts to act this way towards one another. Counseling will really begin when your relationship is cleared up and you are back in fellowship, however tentative.
Another presupposition that I hold is that as long as two people are in sin, neither one can approach, let alone confront, the other and have it go well. The husband may not be man enough to lead his wife to the throne of God, but he is never going to let her tell him what to do. And as long as Estelle views Gary as a nincompoop, he can never bring up her sin to her. Until godly humility enters the picture Estelle and Gary are in serious trouble.
I hope this helps.