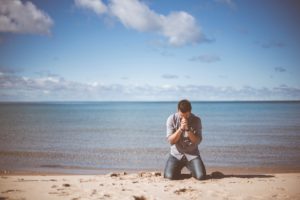 I would like to commend a little book called Handbook to Prayer: Praying Scripture Back To God, by Kenneth Boa. Here's one thing Ken says about the reason for the book that starts the book off,
Spiritual growth is impossible apart from the practice of prayer. Just as the key to quality relationships with other people is time spent in communication, so the key to a growing relationship with the personal God of heaven and earth is time invested in speaking to him in prayer and listening to his voice in Scripture.
This is true. To say that we know God, or that God knows us (Gal 4:9) means that we have a relationship with him that includes our talking with him and his talking to us. When we talk to him we call it prayer and he speaks to us through Scripture.
If we do what Ken suggested and compare our relationship with God to our relationship with our friends I wonder what we would come up with. For example, I wonder if our friends would still be our friends if we talked with them like we talk to God.
Mary, I'm just so glad we have this time together, Mary. I just want to tell you how much I love you, Mary. Mary, dear Mary, I just would like it really a lot if you would bless me with a new car, Mary. Mary, my husband is really a mean man, Mary. Mary, would you please change his heart and make him into a nicer man, Mary? Mary, my children are a mess, Mary Will you just, grant them repentance and change them into nicer people?"
I'm sort of joking about the repetition of her name and the use of 'just', but how often are our prayers full of that kind of meaningless repetition? And how often are our prayers rote and "not real?" Would we ever talk with our wife or our children like that?
We also wouldn't talk with the President of the United States in the same way we would talk to a little baby. Who we are talking to makes a big difference in how we talk to them. If we've never thought about talking with the President, we need to do some thinking about how that should be done. We wouldn't just wander into his office and start talking like we know what we're doing. Or maybe we would, but it wouldn't be pretty and it wouldn't be appropriate, and it would most likely be rude and disrespectful. How much more when we're talking with God.
I know what some of you are thinking, because, of course, I'm a mind reader. No, I'm thinking it too. The Bible calls God, Abba (Rom 8:15). Which means daddy or is at least the kind of thing a child calls her father. It also tells us to that we are children of God. In other place the Bible tells us that we are friends of God (Jn. 15:15). So, given all that, shouldn't we be less formal with God than we would be if we were talking to the President? To this I would say, generally yes. But he is still God and that means something.
How should we talk to God then? First, we shouldn't talk to him like we don't know him. The Mary example illustrates that though it is informal, it is also insulting in several ways. It presumes that God is there to help us with our troubles. It treats him like he is the sugar daddy in the sky. It is trite, impolite, brisk, thoughtless, and without Spiritual maturity and depth. This is not to down play the person who is spiritually immature. There's nothing a new Christian can do about being immature. But a Christian may be immature, he may not stay immature (Rom. 14). He needs to grow up into Christ's likeness and this means that his prayers need to change with that maturation. So, if that's all you know how to pray, pray that way, but know that you haven't arrived, not even close. And you don't get to stay there.
Second, I read a book many years ago, called Prayer, Conversing with God, by Rosalind Rinker (I think). As I remember it, it was about how to pray in a group. The point that I want to emphasize here is that one of Ros's main points was that we should view prayer as speaking with God, a conversation with God. And out of this comes what I would like to add and enlarge on: our conversation with God, our prayer, gets better when we know him well. And we know him well when we spend time with him. When we know Him, how we talk with him will naturally change. So, since you want to pray well, get to know Jesus better.
Third, and this takes us back to Ken's original quote, we get to know God by spending time with him listening to him speak to us. And this is where we get to see a little bit of magic. We don't necessarily need to study the Word in order to "get" what is going on there, so that we can imitate it. In other words, it is good to study how the godly people in the Bible spoke to God and then imitate that, but you don't necessarily need to do that to grow in how you talk with God. You can simply spend time with him, listening to him wanting to get to know him better, wanting to become like him, asking him to make you more like him. And then, as you get to know him better and better, the way you ask will more closely imitate him and you will find yourself thinking like him, walking like him, talking like him, and living like him. You will hear others telling you that you are godlier than you used to be, that you look more and more like Jesus. You will think differently, and yes, your prayers will be different; more mature, less informal, less trite, more respectful.
Did you notice that you prayed back there? You asked God to make you more like him, and then you read the Word and sat back and let the Spirit of God, through the Word of God change you into a more mature and godly person. Magic!
The way this magic works is that love is efficacious. Love changes things, it changes people. It changes you. God is love and God will change you. He wants more than anything in the universe to change you and to make you more like his son and it will happen as you spend time with him, loving him, talking with him, asking him to transform you into who he wants you to be.
I started this post by commending Ken Boa's fine little book to you. And I still do commend it. The reason is that The Handbook to Prayer will help you to learn to pray better by giving you models of prayers taken right out of the Bible. It also takes passages of Scripture that aren't actually anyone's prayers, but teaches you to pray Scripture back to God. It is a great book that will help you study God's word and God so that you will know him better and so that you can be transformed into his likeness and thus please him and glorify him (2 Cor. 5:9; Isa 43:7).